Welcome to the Phoenotopia Wiki,

the premier source for all things Phoenotopia-related that anyone can edit!
538 pages created since July 2015.
WARNING:

This wiki contains unmarked spoilers. Browse at your own risk!
NOTICE: While our editors have been hard at work since the initial launch of Phoenotopia: Awakening, a lot of the pages are currently still under renovation.
To contribute, make sure to join the Discord Server for useful resources
In the meantime, feel free to check out the fan-made Compendium!
Solve the great mystery of the Phoenix!
Phoenotopia (formerly known as Legend of Stone Hero) is an action-adventure puzzle platformer Flash game largely inspired by the great classics such as Cave Story and the Legend of Zelda series, made by Quells. The game follows a village girl named Gale who sets out to meet charming townsfolk, brave the dungeons, and thwart evil all to solve the mystery behind the disappearance of villagers in her hometown.
It was released on Armor Games and Newgrounds on August 20th in 2014 and can be played for free.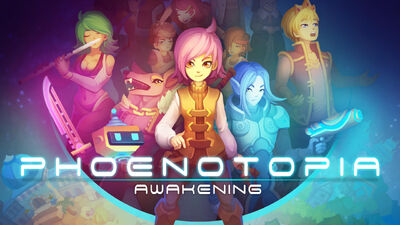 Phoenotopia: Awakening is a remake of Phoenotopia made by Cape Cosmic, founded by Quells. It is the full embodiment of Phoenotopia's vision, with the game world over three times larger, aesthetics from all locations reworked, new songs added with many returning ones improved, combat and movement revamped, triple the numbers of collectibles to be found, the script completely rewritten, and much more!
It was released on the Nintendo Switch system on the US eShop on August 20th in 2020 for $19.99, on the European and Australian eShop on September 3rd in the same year for £17.99, and expected to be released on Steam by the end of 2020.